How, Under the Windows Operating System, Do I Create a Screenshot and Send for Review?
Overview:
For some support related issues, obtaining a screenshot may provide valuable information that will assist us with resolving the issue being experienced. The following page describes two different methods of creating a screenshot.
Manual Screenshot
For traders not using the TWS, the following describes the process of creating a screenshot and attaching it to a web ticket to submit to Client Service.
To provide an image of your full computer screen select and hold down the 'Ctrl' key and then the 'Print Screen' key (located in the upper right corner of the keyboard).
For an image of a single window within your screen select and hold down the 'Alt' key and then the 'Print Screen' key.
Next, open a text or image editing program such as Microsoft Word to 'paste' and save the shot you've just created. Once the program has opened select and hold down the 'Ctrl' key and then hit the "V" key. Verify that this is the image you wish to send and then save the document to your computer. Log in to Advisor Portal and select the Message Center from where you can create a new web ticket and attach your document.
TWS Screenshot / Log File
Traders using the TWS software can use keyboard combinations to capture snapshots of their screen and upload them to assist with support issues.
To create a snapshot of the TWS screen and upload the log file please use the keyboard combination associated with the type of machine being used;
All PC's except HP's: Ctrl+Alt+H

Hewlet Packards (HP): Ctrl+Alt+Q

Mac: Ctrl+Option+H
A window will appear allowing the trader to enter text and check the screenshot box to include an image of the computer screen.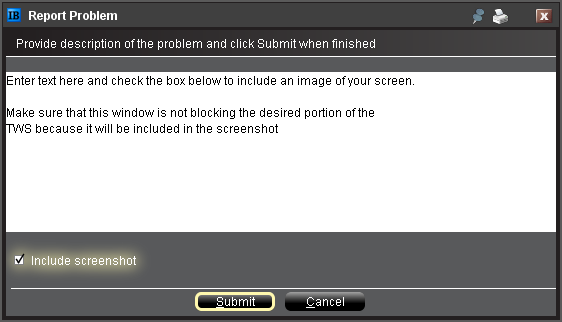 After pressing submit, the following window will appear to acknowledge that the files have been uploaded.

Rules
Client Service does not monitor these uploads during the day so be sure to communicate with the Client Service desk prior to uploading files relating to a current issue.

Traders behind a firewall or proxy may be unable to upload log files and screenshots using the TWS method.